This home was purchased to become a second or vacation home for a family of six. The family currently lives in an urban environment but wanted a mountain country home on the river with direct access to fishing, kayaking and outdoor living. The project goal was to create a comfortable but upscale design concept supportive of the family's lifestyle that was sensitive to the mountain location, the riverside environment and the family's outdoor activities. This home will be a second home now but was designed to become their future full-time retirement home. The family did not want a rustic mountain home with materials and details that were overused, hard to maintain and with a theme (bears or fish.) They wanted a "refined rustic" design using low maintenance materials, finishes and furnishings.​
The existing house had very country and dated look, with dark colors that made the rooms feel smaller. The floor plan was quirky with rooms that did not connect to others without maneuvering multiple stairs and hallways. The new owners wanted the plan to flow, meaning opening up walls to unify the planand make the house flow better. They wanted more contemporary and lighter colors with accents of traditional colors, patterns and materials. They also wanted to maximize sleeping accommodations, so the final plan created space for 17 people in beds (no sleeping sofas.)​
There were several unfinished spaces (the entire basement and the bonus room over the garage.) New designs were developed for these areas including new lighting, finishes & furnishings. Our work involved both interior and exterior design detailing, finish selections, cabinet design and detailing, lighting design and fixture selection, custom window treatments, re-design of bathrooms, kitchen and entertainment areas. We also assisted with the selection of interior and exterior doors, windows, hardware and finishes.​
The home is 6500 square feet of heated and conditioned space not including exterior decks, exterior shower and outdoor living areas.​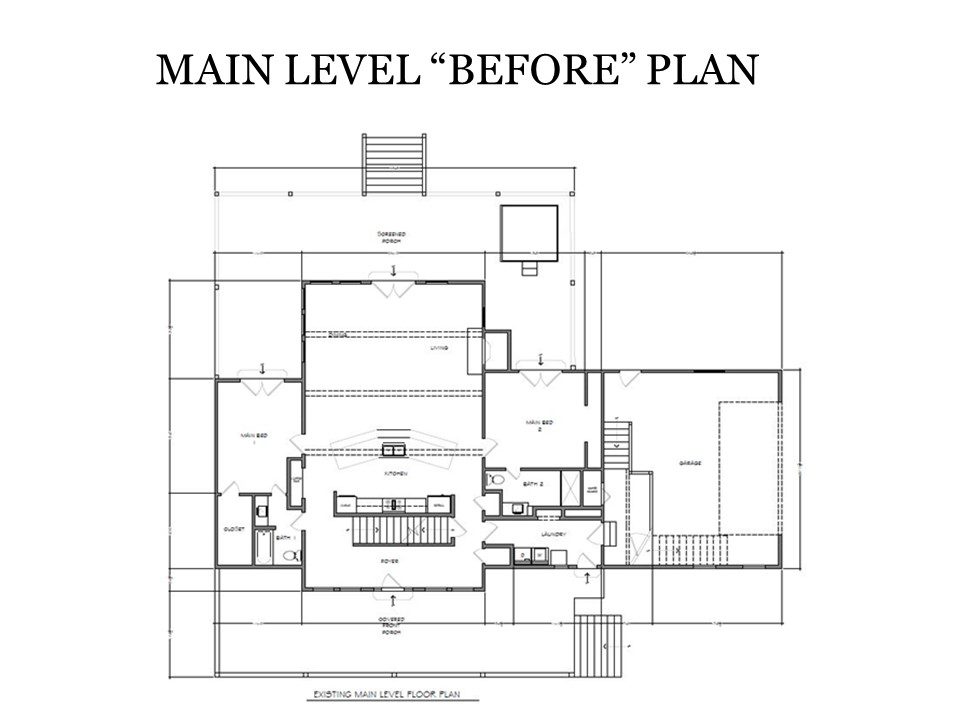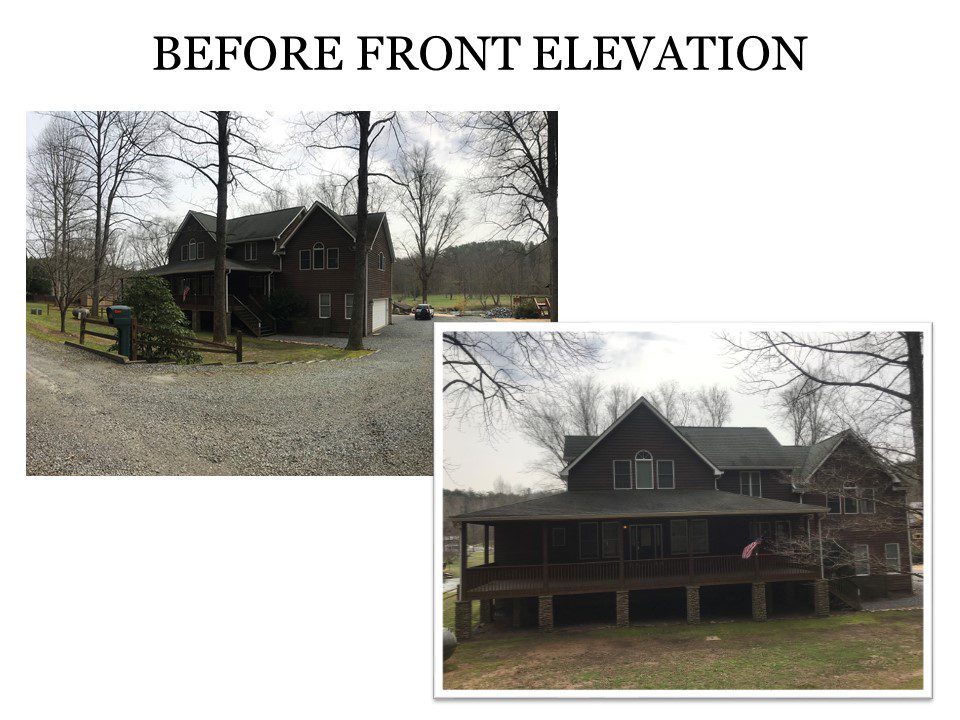 ISSUES WITH EXISTING:​
Not welcoming to Guests​
No definition of elements such as window and door trim, architectural features that make elements stand out.​
House color is dull, washed out, dated​
No sense of front door or front entry from the street side​
Underside of front deck left open, unfinished, not desirable for the front of a house and "first impression"​
Small stair leading to front door was built like a back of house deck stair, open treads, steep, no landings – definitely not a welcoming entry to the house.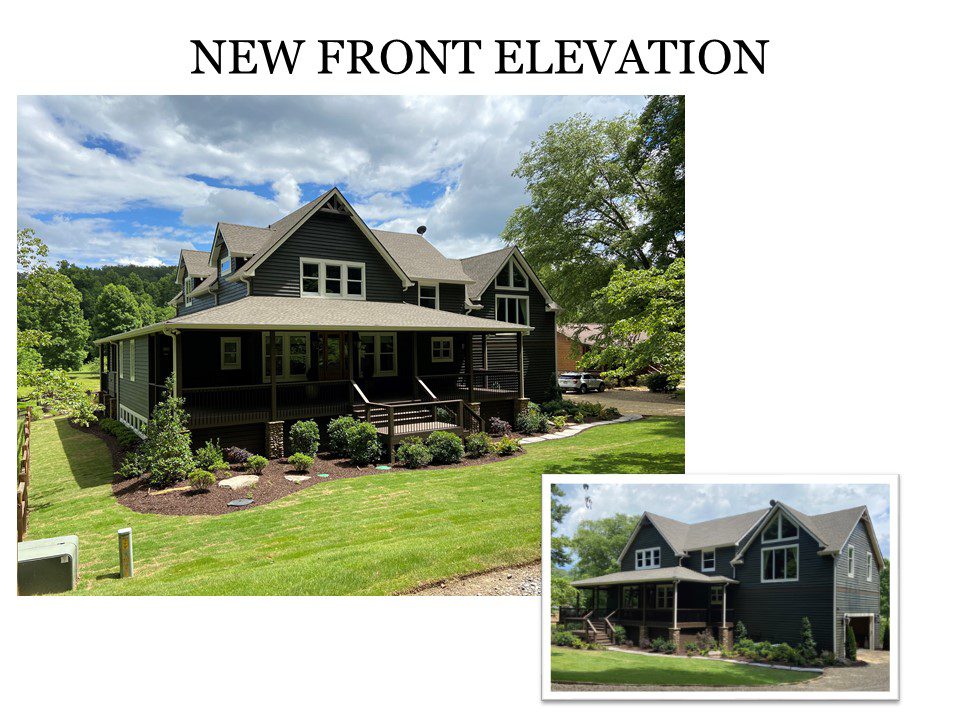 RENOVATION FEATURES:​
Creation of a Front Entry Staircase Centered on the Front Door with an inviting walkway to the driveway​
New Exterior Paint Color Scheme​
Fill in underside of front deck​
New upscale landscaping and plantings
---
ISSUES WITH EXISTING:​
No Emphasis on a front door saying "here is your entry"​
No front stoop making front door welcoming​
Wall lanterns that are too small, not installed flat to wall​
No entry to the front door from the front façade – had a small side stair leading to front door making it undetectable and never used
RENOVATION FEATURES​
New Door and Sidelite insert, 8' Tall, Stained Knotty Alder Wood​
New Front Windows with Trim​
Cover Unfinished looking Ceiling Joists with Shiplap Wood and Decorative False Beams​
New Steps to Create a more inviting entry​
New Gas Lanterns​
New Paint Color​
Decorative Plantings
---
ISSUES WITH EXISTING:​
No Sense of Entry or "Welcome to our Home"​
Solid Wall that made foyer narrow and closed in eliminating a foyer space​
Stairs did not meet code​
Dated lighting, window treatments​
Space was dark, unwelcoming and not used
RENOVATION FEATURES:​
Remove Wall around Stairs​
Create floating stair design with heavy beam treads, metal pickets, wood rail​
New Lighting​
New Furnishings​
New Rough Sawn Wood Feature Wall​
New Front door Unit with Knotty Alder door and Sidelites​
New Custom Window Treatments​
New Knotty Alder Interior Doors and Door Hardware
---
ISSUES WITH EXISTING:​
Fireplace looks "stuck-on" the wall, not authentic​
Dated window treatments, furnishings & lighting​
Wood has oxidized and turned orange/yellow
Ceiling Beadboard is out of scale, more beach feeling​
Position and alignment of exterior doors and windows to each other and the space are out of scale and in wrong locations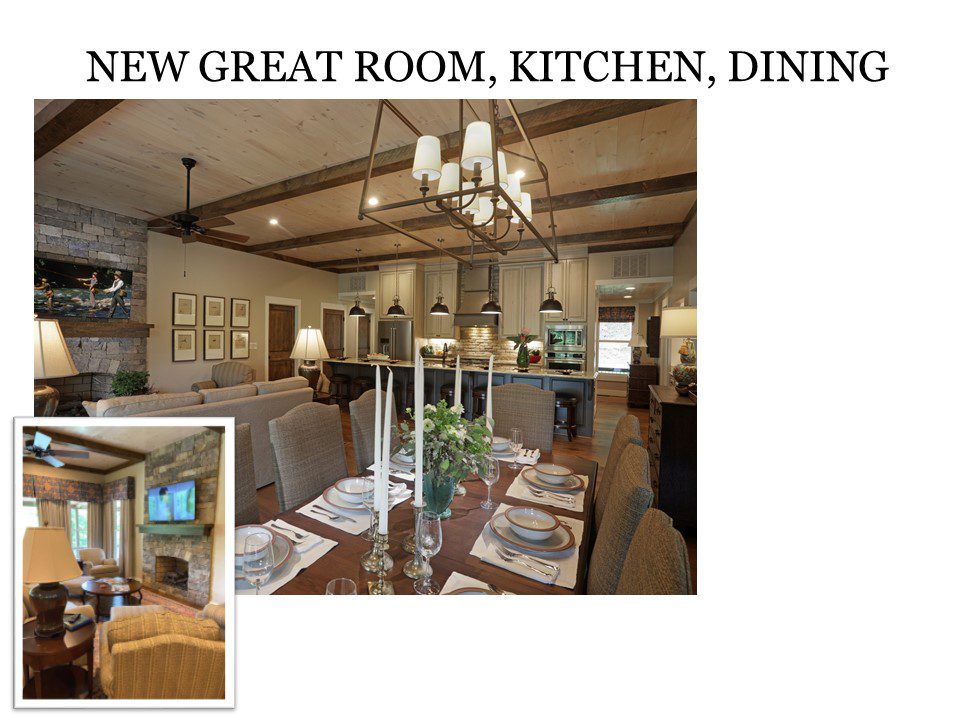 RENOVATION FEATURES:​
Refinish Wood Floors​
New Updated Lighting​
Replace wood ceiling with wider, shiplap, white-washed finish to lighten space​
Wrap Wood Ceiling Beams with new wood​
New Stone and Firebox on Fireplace​
Relocated and replaced exterior windows and doors so they aligned with each other and space​
New Furniture​
New Custom Window Treatments
---
ISSUES WITH EXISTING:​
Wasted space between cabinet tops and ceiling collecting dust.​
Dated appliances, cabinet hardware and countertops​
Lots of wasted space with angled island.
Not enough light fixtures for the scale of the island.​
Coffee bar was closed into a closet like an afterthought.
Renovation Features:​
New Custom Cabinets and Countertops​
New Appliances​
New Lighting​
Replace all Trim with better scaled trim that is both stained and painted​
New Interior Doors​
Removed the trim around the coffee bar and brought in the side walls to make it more prominent.
---
Renovation Features:​
Refinish Wood Floors​
Replace wood ceiling ​
Box ceiling beams​
New Custom Window Treatments​
New Lighting​
New Furniture​
New glass doors towards River
---
Renovation Features:​
Add Wood Board & Batten Siding to Walls, Painted​
Add Shiplap Wood to Ceiling, Stained with whitewash​
New Custom Window Treatments​
New Furnishings & Artwork​
New Custom Bedding​
New Custom outdoor Kitchen (seen through doorway on deck)​
New Ceiling Fan
---
Issues with Existing:​
Existing closet and bathroom door locations didn't leave a wall large enough for a queen bed.​
Wall color was too much for new style direction of the house.
Renovation Features:​
Rework Floor plan to Reorient Bed, Create new closet, new entry to Bath​
New Furniture​
New Ceiling Fan​
New Wood Board & Batten Wood Siding on Walls, Painted​
New Shiplap Wood Ceiling, Stained with whitewash
---
Issues with Existing:​
Bed sat against floating wall leaving wasted "hallway" space to get to master bathroom.​
Niches beside fireplace we deep, awkward and mismatched. ​
Combination of wood ceiling and paint colors made the room feel dark.
Renovation Features:​
Removed floating wall behind bed creating new entry plan, entry to closet​
Refinish wood floors​
Repainted and added new wainscoting.​
New Shiplap and Wood beams on Ceiling​
New Lighting and Ceiling Fans​
Rework fireplace wall Creating built-in bookcases and centered fireplace​
New stone and firebox for fireplace​
New Furniture & Artwork​
New Custom Window Treatments
---
Issues with Existing:​
Half of floor was wood while other half was tile.​
Vanity area was small and cramped for master. ​
Vaulted space in ceiling looked out of place.​
Dark blue color made the room feel heavy and closed in.​
Tile in shower needed to be updated.
Renovation Features:​
New Cabinets and Countertops​
New Shiplap Wood on Ceiling-removing the vaulted section​
New Tile Floors and Some Walls​
New Wallcoverings​
New Lighting and Ceiling Fan​
Pushed back wall over stairs to allow for longer vanity.​
Opened up wall between bathroom and tub room.
---
Issues with Existing:​
Room on the front of the house was closed off from the rest of the bathroom with a wall and door. ​
Only way to access room was through master bedroom/bathroom, so having an additional bed here didn't make sense.​
Open closet space at the end with no door served no functional purpose.​
Window treatments were old and dated.
Renovation Features:​
Remove end closet and recessed space​
New Windows and Window Treatments​
Added New Tub​
Tiled wall behind Tub​
New Wall and Ceiling Lighting​
New Wallcovering​
New Tile Floors​
New Furniture
---
Issues with Existing:​
White double doors opened directly into bonus room space over garage.​
Half bath in corner of the room had no direct access to bonus room.​
Bedroom provides lots of room for sleeping, but only had half bath so no place for people to shower on this level.
Renovation Features:​
Refinish Wood Floors​
Creation of full bathroom that opens to adjacent bonus room​
New shiplap wood on walls and ceiling​
Wrap beams on Ceiling​
New Lighting and Ceiling Fan​
New Furnishings and artwork​
New Custom Window Treatments
---
Issues with Existing:​
Walls, ceilings, stairs and most of space was rough and unfinished.​
Windows to back deck were small and misaligned.
Renovation Features:​
Added decorative beams to the ceiling. ​
New windows in gables and sliding glass door to deck.​
New stone fireplace. ​
Created bar and fridge area in corner.​
Stained Shiplap ceilings and painted shiplap walls.​
New lighting fixtures and ceiling fan.​
New furnishings and custom draperies
---
Renovation Features:​
New furniture, bedding and ceiling fans.​
Fully finished out the space and added stained shiplap to the walls and ceiling.​
Trimmed out the windows and new window treatments.​
LVT wood-look flooring.
---
Outdoor Shower
Backyard and River View
Master Desk Space
Bedroom Sitting Area
Stairs to Basement
---
Renovation Features:​
Tile floors and showers​
New light fixtures.​
New Wallcoverings.​
New custom cabinets and countertops.​
New sinks and bath hardware.​
Added stone accent wall over the vanity in the powder room.
---
ISSUES WITH EXISTING:​
Back yard was all gravel and unlevel.​
House color and wood deck are dull with no trim to accent windows.​
Open space under deck looks unfinished and messy.​
Windows are misaligned.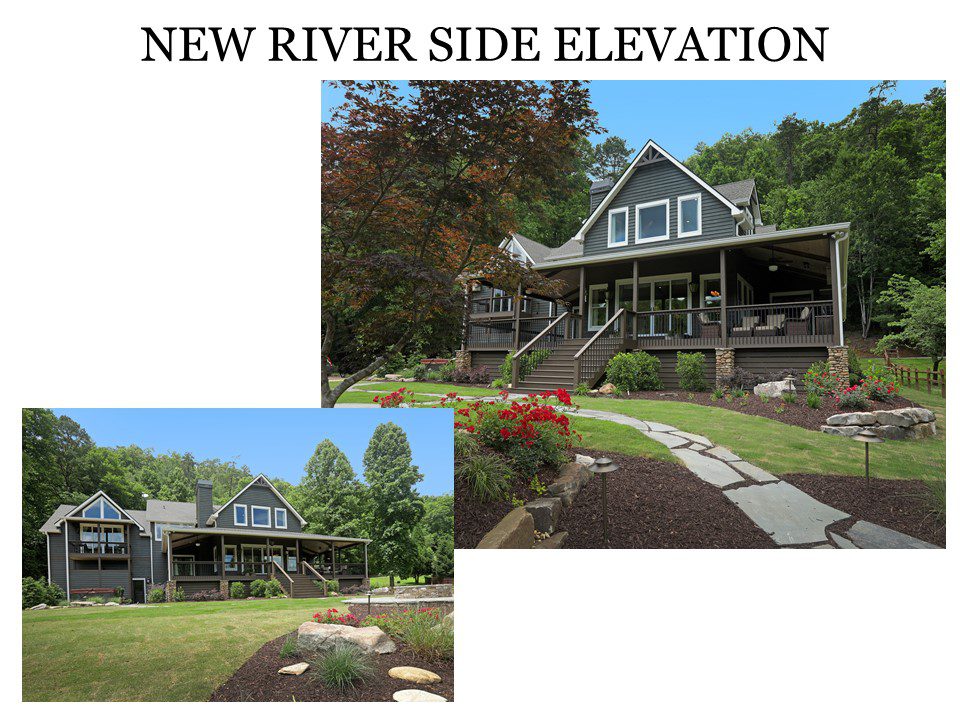 RENOVATION FEATURES:​
All new outdoor shower and stone patio space for hot tub.​
New Exterior Paint Color Scheme​
Fill in underside of deck with horizontal lattice boards.​
New upscale landscaping and plantings and grass yard.
New stone fire pit area​
Windows aligned and trimmed out.​
Decorative details added to the gables as accents.​
New metal pickets with painted wood handrails.